How to Write a Business Plan
A business plan is a written document, which will guide to achievement of the goals and aims of a particular business. Simply, it is a road map that directs us to a successful business, the business plan tells us,
Who is running the business and what makes them qualified? What do they bring to the table that adds value?
By writing a business plan, we can identify who are the competitors to our business and what they offer and what makes us different.
Also, we can identify who is our customers and where are they. How big is the market? What do they want and how will we give it to them? Also, how will we connect with our market?
A business plan can be written either for new business or existing business. There are some steps to complete to write a business plan.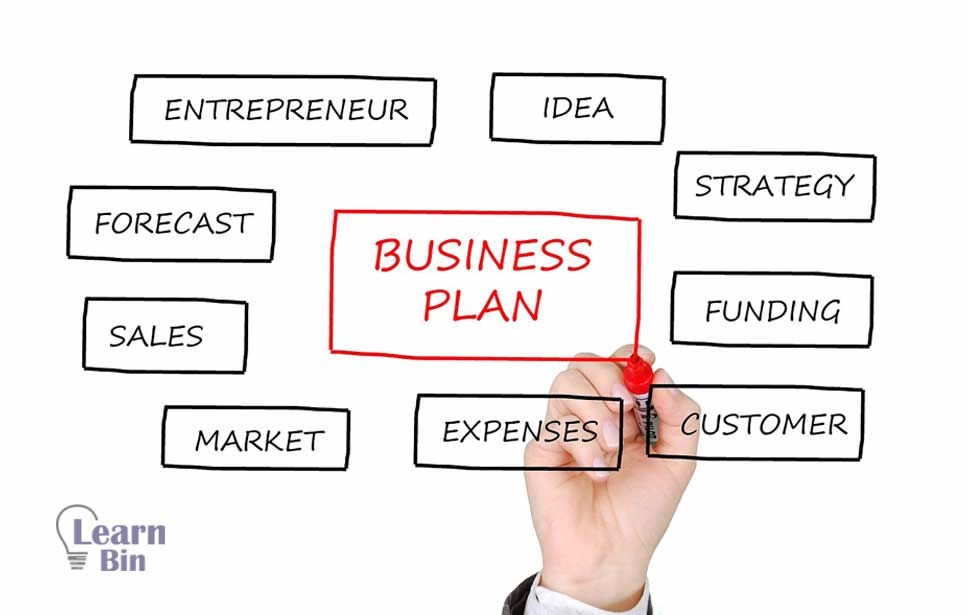 Step 01 - Identification of opportunities
The first step to the new business is the identification of opportunities. Opportunity is a set of advantageous conditions that create a need for a new product or business. Entrepreneurs recognize opportunities and turn them into successful businesses. Availability of resources, industry, market sudden changes, problems, and new trends in society or gaps in the market can be a good opportunity.
Step 02 - Generating business ideas/ developing concepts
The concept of idea generation can be used to create value. This is a critical milestone in the process of founding a business. Every successful business has started as someone's idea.
Step 03 - Screening the business ideas
Once business ideas are generated, they can be assessed to find out the feasible ideas, and further, those ideas can be ranked from the most feasible ideas to the least. The main reason for screening the idea is to find the feasibility of the idea with respect to the Strength of the Idea, Marketing Feasibility, Operational Feasibility, Financial Feasibility, and Management Feasibility.
Business idea screening techniques can be either qualitative or quantitative and financial or non-financial. There are two types of screening Basic or Primary Screening and Comprehensive Screening. Basic or primary screening provides a mechanism for quick assessment of business ideas. Critical areas of the business idea can be taken into this assessment.
Once the ideas were built, they can be referred to the second or comprehensive screening. This is a more stringent screening that can be used to identify the best or most feasible idea. This requires deep insights than basic screening. Research, surveys, deep analysis of secondary data, etc. are needed.
Step 04 - Ranking the business ideas and selecting the most feasible one.
After screening the ideas, then they are ranked according to their feasibility.
Step 05 - Develop a business plan writing checklist and write the business plan
The business plan checklist is written by including the most important sections that we include in the business plan. The checklist will guide us to write a much more effective and successful business plan through a step-by-step process.
Executive Summary
An executive summary is a brief introduction to the business. The purpose, significance, and uniqueness of the business are explained in this section. And the essence of the Marketing Plan, Operational Plan, Management Plan, and Finance Plan is briefly explained here.
State whether your plan is for internal use only or not and whether it is for seeking funds or not.
If you are seeking funds, specifically point out that purpose; Ex: for a lender, for angels, or for a venture capitalist, etc.
General Information of the Business
In this section, all the information about the business is provided. First, general information such as the Name of the business, Emblem, Vision statement, and Mission statement is included. Additionally, a short description of the business is included. As an example,
what are the values of the industry,
what is the legal structure of the business, and
what type of product or what type of service will provide etc.
Next, the contact information of the business is included. The address, contact numbers, email addresses, social media contacts, and the web should provide as contact details. If there are any branches or showrooms, those details are also included. Then, it is better to attach a map of the business location.
Finally, information on the Founder/s, Board of management and structure, Name and qualifications of secretaries, auditors, consultants, Official banker/s, Uniqueness, and special capabilities of the business and management are included. If there are any Intellectual properties, Achievements, and History of the business that information is also included.
Marketing Plan
To assess the marketing environment, we should clearly identify what are the goals, objectives, and overall marketing strategy, what are the products, and the prices of the products and pricing strategies are planned. Additionally, it should be considered how to deliver the customer value and communicate with the customer.
Consumer markets, business markets, and competitors are analyzed by Conducting marketing research and forecasting demands. Break-even analysis is widely used to analyze the market. Market segmentation and targeting, creating brand equity and brand positioning, and Managing customer relationships are important steps to be considered when developing a marketing plan.
Details on the nature of the coordination among other business functions and departments, marketing staff and related costs, marketing supply chains, action plans, control plans, required assets and related costs, and total marketing costs, are included in this section.
Operational Plan
The operational plan describes how to operate the started business. Corporate goals and operational goals, corporate strategies, and overall operational strategies are described in this section. Also, a description of cost or price, quality of products or services, delivery speed, delivery reliability, coping with changes in demand, flexibility and new product development speed, and other product-specific criteria such as technical support, and superior after-sales support is included in this section.
Important details that should be included in the operational plan are,
Product design and development
Manufacturing process selection and design (Break-even analysis)
Job Design
Selecting a Location
Determine the work methods.
Forecasting for production planning
Facility location strategies
Capacity planning
Production layout and assembly line balancing
Quality management strategies
Production planning
Material requirement planning and inventory control.
Managing for Productivity
Strategies for operations re-engineering.
Supply chain management
Management and Administration Plan
This section gives information on management and the administration of the business. First, the mission of the organization, corporate goals, strategic objectives, corporate strategies, and the management structure of the organization is included. Then the key positions of the organization and their Job title, tasks/duties, and responsibilities at a glance are described.
Strengths, weaknesses, opportunities, and threats-Managerial feasibility analysis and justifications, Policies, procedures, practices of the organization (In general management and administration perspective) Summary profiles of Secretaries, Auditors, Consultants, and Human Resource Management functions also described here.
Additional details that should be included in the management plan are,
Details on decision-making, meetings, communication, and other coordinating activities
Managing growth and development goals and strategies
Activity plans
Assets and related cost
Staff and related cost
Total management and administration cost
Controlling plans
Nature of the coordination among other business functions or departments
Financial Plan
The financial plan is a detailed description of cash flows and funds. Initial cash flow, operational cash flow, and terminal cash flow are described under cash flow. Startup costs on land, buildings, furniture, etc., and working capital requirements are the initial cash flow. Income, expense, and working capital change are the operational cash flow. The cost for scrap and release of working capital is the terminal cash flow.
Other areas that should be concerned in financial planning are, the assessment of financial viability through financial statements analysis, analysis of tax concessions, etc. and variance analysis, and financial controlling. Equity/ Debt/Mix and cost of funds are described under funds.
Additionally, projected Financial Statements on manufacturing and trade account, income statement, financial position, and cash flow statements are included under the financial plan.
Annexure
Documents that can be included in the annexure,
Personal resumes (Work history, educational background, professional affiliations, and special skills and proof, etc.)
Owner's financial statements
Agreements
Contracts
Research or Survey reports/details analysis
Other legal documents (Articles of incorporation, partnership agreements, licenses, copyrights, trademarks, patents)
Step 06 - Conducting a pre-feasibility analysis
Before starting the business, it is better to conduct a pre-feasibility analysis to identify the market. This analysis is carried out by,
Introducing prototypes or trial productions
Trial servicing
In the day of life research
Other pre or test marketing activities
Identifying possible changes/deviations or realities of plans
Step 07 - Develop implementation checklist/s
Identifying and listing down all the activities to be taken with the implementation, based on the relevant action or activity plans.
Step 08 - Implementation
Launching the venture and starting the activities as planned and with the outcomes of the pre-feasibility analysis.
Step 09 - Follow up
Monitoring planned activities and realities, identifying, and taking corrective actions for the poor performing areas or deviations if any.