What is "New Product Analysis"?
Every day we use thousands of different products such as electronic products, vehicles, packaging materials, toys, and foods. But have you ever wondered about how those products are designed, even before the manufacturing process?
Every product that we use is designed in a particular way. New product analysis enables manufacturers to understand the important aspects of a particular product and manufacturing process such as,
materials
processing
economic
aesthetic decisions
Determination of these aspects is crucial to the manufacturing process and these decisions should be made before any product is manufactured.
Getting started with new product analysis
In product analysis, the first thing to do is to become familiar with the product. We have to identify the function and the purpose of the product. Also, we must idea about the appearance of the product. Before a product is analyzed, the above questions and more should be asked.
As well as the mechanical requirements of the product, like electrical conductivity, strength, stiffness, elasticity, etc. should be considered. All of these properties play an important role in the later design decisions.
Let's take laptops as an example. The following questions should be asked when doing the product analysis of a laptop.
01. What is the function of a laptop?
A laptop is a portable computing device. Simply laptop can be defined as a computer that is compact, lightweight, portable, and has the ability used without an external power supply. There are many categories of laptops, but for this example, we can consider a gaming laptop and an office laptop.
There are some considerable differences between those two types of laptops. Generally, an office laptop should be much thinner and lightweight than a gaming laptop. Gaming laptops Should have much more power and performance than office laptops to serve their purpose.
02. How does the function depend on the type of laptop
When considering office and gaming laptops, those two have different functions. Gaming laptops are intended for running the applications/software that require more power and performance such as games. But the main intention of office laptops is to run regularly used software such as office applications while maintaining professional esthetics.
03. How is it manufactured to be upgradable and repairable?
Laptop computers are electronic devices that are made by combining different hardware modules such as ram, hard disk, SSD, motherboard, display, keyboard, touchpad, battery and etc. The consumer has the ability to upgrade or replace some of those modules (ram, SSD, display, hard disk, battery) when necessary.
04. What should it cost?
When it comes to gaming laptops, the price is not a limitation. It can be very expensive. Most of consumers are willing to pay a high price to have the latest and best specs. But most of the time office laptop or a home laptop should be much more affordable than a gaming laptop.
05. What should it look like (esthetic features)?
Most of the time office laptops should be thinner in size and should have a minimalist and professional look. But gaming laptops can be much thicker than office laptops and they generally have attractive features such as larger size (larger displays), rugged chassis, RGB lights and etc.
06. How has it been made to serve its purpose?
Gaming laptops are much heavier than office laptops because there have more powerful components inside because that need more power. Also generally they have less battery life than office laptops. But office laptops are lightweight and they have greater battery life because portability is very important to them and it is the main selling point of office laptops.
07. What is the connection between components and properties of materials?
Laptops have many components. When manufacturing them, the property of the materials used is an important factor. For example, when manufacturing the chassis of the laptop there are a few different materials that can be used such as metals (aluminum), and plastics (ABS, Polycarbonate). Also when considering batteries, Li-polymer batteries or Li-ion batteries can be used. So materials should select according to the required properties of the product.
Systems and Components
There are two main types of products. Products with single components (e.g. spoon, plate) and products with multiple components (e.g. laptop). Products with multiple components are known as systems.
| | |
| --- | --- |
| Product | Components |
| Laptop | Display, Motherboard, keyboard, etc |
| Car | Engine, seats, tires, chassis, etc. |
| Food processor | Jar, motor, blades, power cord, etc. |
Table 01: Product and its system components
When we analyze a product, we start by considering the whole system. But different materials and different processing methods are used to manufacture different components in a system. To choose the correct materials for each component we need to 'pull it apart' and think about each component as well. Then we can analyze the function in more detail and draft a design specification.
Design Questions
We need to think of the appropriate questions for the product and its components. So, we can identify what the product specifications are.
For a drink's container, a design specification would look something like this,
To store a liquid, the container should provide a leak-free environment.
Should follow food standards guidelines and should protect the liquid by preventing any contact with health hazards
Fizzy drink containers should be able to withstand internal pressurization. And should prevent the escape of bubbles
Provide an aesthetically pleasing view or image of the product – the container should be eye-catching and fashionable.
If possible, create a brand identity – some shapes are unique for some brands. But this is a lesser priority condition.
Be easy to open
Be easy to store and transport – if the bottle is not strong enough it will be crushed when packing. During transportation, we should be careful not only about the load but also the impact.
Be cheap to produce.
By analyzing the specification of the requirements on each part, we can identify the material properties which will be important.
Material Selection
One way of material selection is to look up values in standard tables for the important properties of the materials that are suitable for a particular product. But this method is time-consuming, and a designer may miss materials that they simply forgot to consider.
There is a better way to select materials than the above option. That is to plot two material properties on the same graph and because of that, no materials are overlooked. This type of graph/chart is known as a 'materials selection chart'.
Materials are selected according to their important properties. The next step is to select proper processing options.
Example Analysis
When we are selecting materials for a product, first we have to know whether the product is performance-driven or cost driven. There is a big difference when choosing materials for performance products and cost-driven products.
In a performance product (like a Gaming laptop), the cost is not a considerable factor. We only consider its performance. In such products, the cost is not a significant factor when compared to its demand. Therefore, we have a big freedom to choose materials.
For a non-performance product, the primary importance is the cost of the product. A water bottle is an example of a non-performance product. Most materials may provide sufficient performance. But we should choose the cheapest material. As an example, we use PET or PE to manufacture drink containers. Although they aren't many strong materials, they are strong enough for the product. And they are cheap.
Sometimes, the processing method is a limiting factor. As an example, some materials (e.g. acrylonitrile) cannot be processed by injection molding. If we need a long shape for a particular product, we can obtain such shapes by extrusion. But only soft metals or polymers can be extruded.
Choosing between Different Materials
When we have several materials, we should consider three main things when choosing a material.
Will those materials meet the performance requirements?
Will those materials be easy to process?
Do those materials have the right 'aesthetic' properties?
Most products should achieve some performance targets, which can be determined by analyzing the design specification of a product.
e.g., they must be cheap, stiff, strong, or light, or perhaps all these things...
Each of these performance requirements should be satisfied by the materials that we choose. If our product should be light, we choose lighter materials. If it should be stiff, we choose hard materials. So on. So, what type of approach can be used to select the right materials for a product?
Choosing materials using material selection charts
Material selection charts are plotted to compare two properties of several materials. On these charts, different classes of material create clusters or bubbles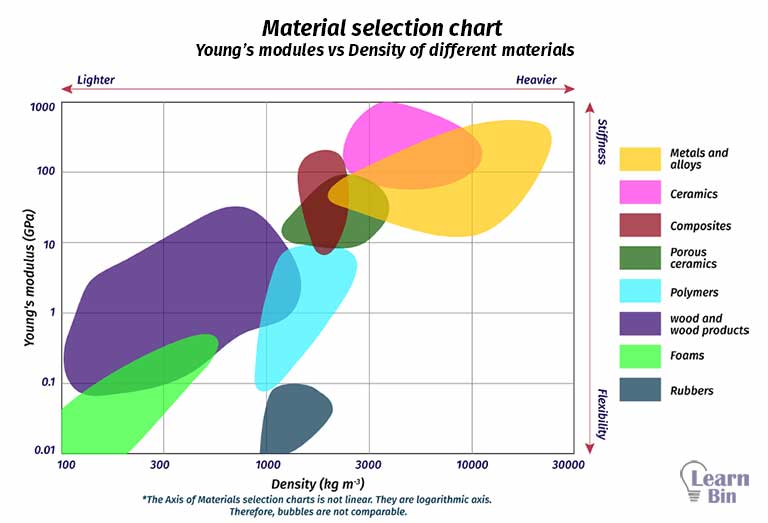 The Axis of Materials selection charts is not linear. They are logarithmic axis. Therefore, bubbles are not comparable.
Competing materials can be quickly identified using material selection charts. From observing the above material selection chart many facts about materials can be observed. some of them are,
Materials that have the highest mass - Metals
Materials that have the lowest mass - foams
Materials that have the highest stiffness - ceramics
Materials that have the highest flexibility - rubbers and foams
For example, if the product has to be manufactured using a light and stiff material, have to select materials near the top left corner of the material selection chart.
We can annotate the table by placing a suitable selection box to reveal the best material.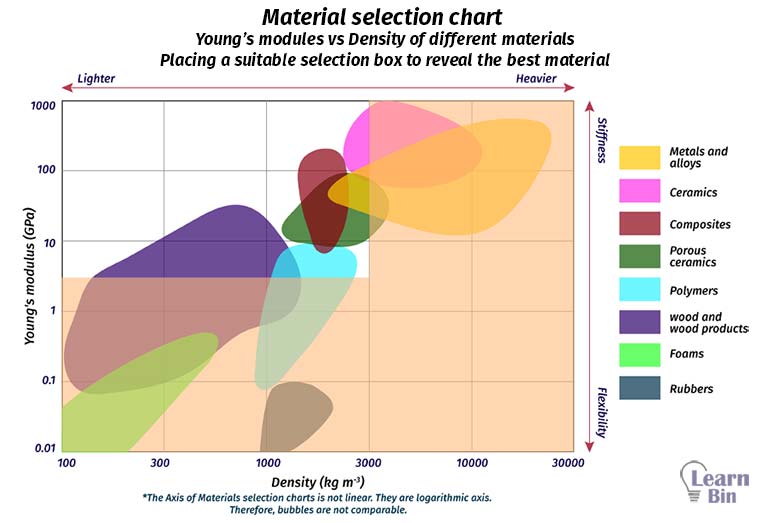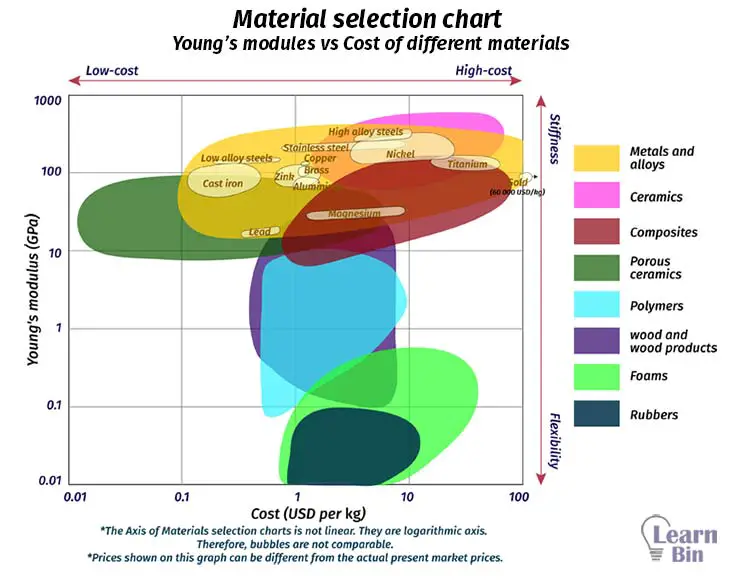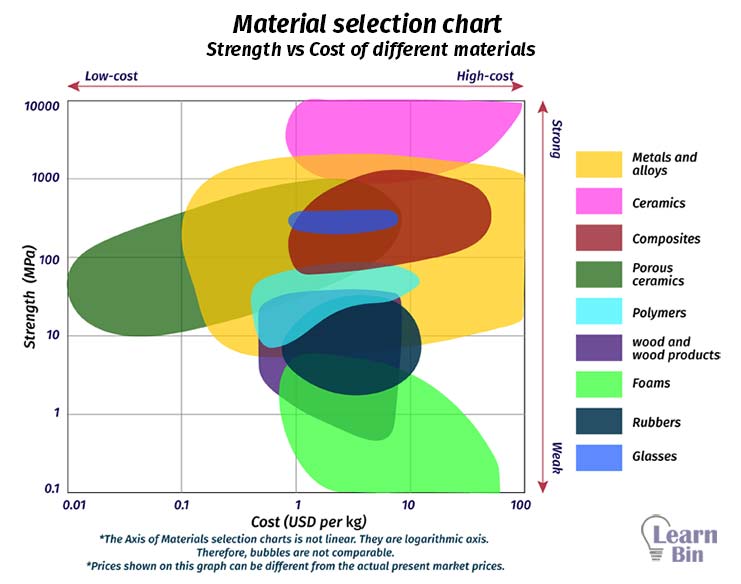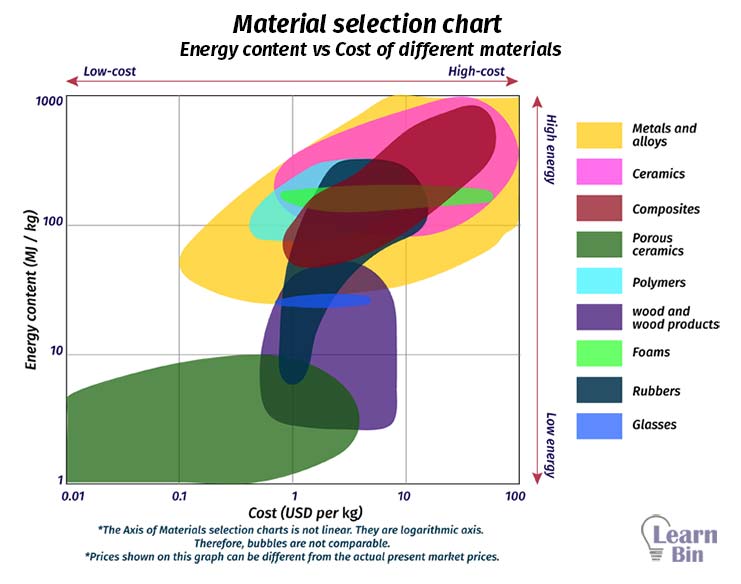 By analyzing two or more charts we can choose classes of materials that satisfy the properties of the main design. Then we can look for more details about those classes to identify the exact material. When finding the best material for a product, it is easy to eliminate materials that are definitely not suitable for the product. Apart from the material properties, there are still other factors that need to be considered. Processability of materials, material availability, transportation of material, etc. should be considered.