Vulcanization is the process that forms crosslinks between rubber chains. The pre-vulcanization reaction takes place in each latex particle without altering its shape, and appearance. Pre- vulcanized latex is very similar to un-vulcanized latex in appearance. It is possible to pre-vulcanize the dispersed phase of natural rubber latex without any prior coagulation.
Sulphur Pre-vulcanization of NR
Necessary Compounding ingredients in a sulfur vulcanizing system are sulfur as the cross-linking agent, Activators, Accelerators, Stabilizers, pH builders, Fillers, Pigments, Thickeners, etc. Latex compound is prepared by dispersing these compounding agents with preserved natural rubber latex. latex compound can be either dispersion or emulsion. 
The typical compounding formula of the sulfur vulcanizing system
| | | |
| --- | --- | --- |
| Ingredient | Parts by weight | |
| | Dry | Wet |
| NR latex (60%) | 100 | 167 |
| KOH (10%) | 0.3 | 3 |
| Stabilizer (10%) | 0.2 | 2 |
| Sulfur (50%) | 2 | 4 |
| ZnO (50%) | 1 | 2 |
| ZDEC (50%) | 1 | 2 |
Table 01: The typical compounding formula of the sulfur vulcanizing system
Sulfur vulcanization of NR latex occurs at many low temperatures when compared to sulfur vulcanization of dry rubber. Sulfur vulcanization in the latex stage occurs much more rapidly than the vulcanization of dry rubber at the same temperature using the same vulcanizing ingredients.
Effects of sulfur pre-vulcanization upon properties of NR latex and films derived from NR latex
Sulfur pre-vulcanized NR latex is slightly yellow. The density of latex increases with pre-vulcanization.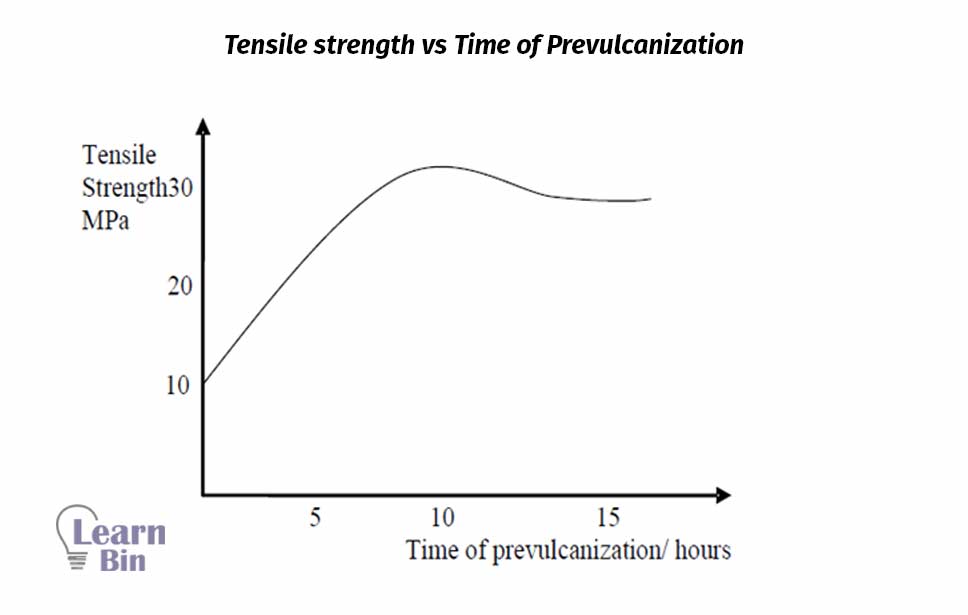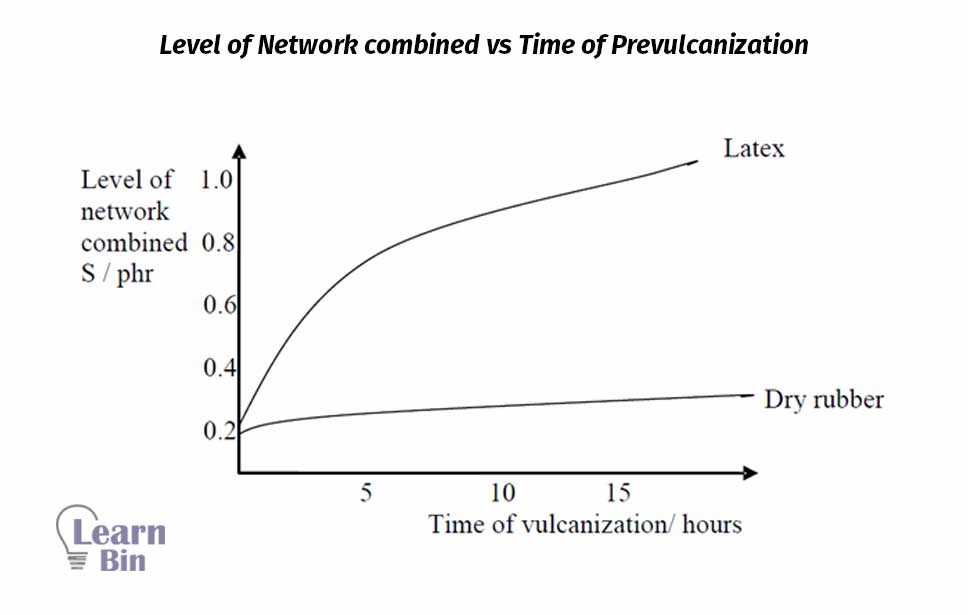 Similar results have been obtained for synthetic cis 1,4-polyisoprene. This indicates 30% of the water in the latex may be responsible for the occurrence of sulfur pre-vulcanization at rather a low temperature.
Mechanism of sulfur vulcanization of NR latex
It is assumed that the vulcanization reaction starts by a mechanism similar to sulfur vulcanization of dry natural rubber.
General mechanism of sulfur vulcanization
First, the vulcanizing activator reacts with the S8 ring and forms an active sulphurating agent.

Active sulphurating agent reacts with natural rubber chains and forms activator + sulfur (Ac-Sx) pendent groups. (Polysulphidic pendant groups)

The polysulfidic pendent sulphurating group further react with another rubber chain and form sulfur crosslinks. The activator is removed.

Some sulfur atoms are removed from pendent sulphurating groups. (De-sulphuration)

By removing sulfur atoms from polysulphidic crosslinks mono-sulfidic and di-sulfidic crosslinks are formed.

The rearrangement reactions are as follows.