Introduction to three domains of life
Classification of life (Classification of organisms)
There are two ways in which organisms are classified; artificial and natural classification systems.
Artificial classification system
Classification of organisms that do not consider evolutionary relationships between organisms is called artificial classification. Here, organisms are classified using two or a few notable features.
Such a classification cannot be used for a scientific study. Because in artificial classification, organisms that do not have evolutionary relations belong to the same group, and organisms that have evolutionary relations belong to different categories.
Until the 18th century, artificial classification systems were used to classify organisms. The development of natural taxonomic systems began in the 19th century, with the introduction of evolution by Charles Darwin.
Natural classification system
In a natural classification system, the evolutionary relationships between organisms are considered.
The benefits of a natural classification are ease of identifying evolutionary relationships between organisms, ease of studying the diversity of organisms, ease to remember, improving the ability to predict organisms, ease of giving a scientific name, etc.
History of classification of organism
Year
Scientists
 Contribution
384 B.C
Aristotle
Animals are classified into vertebrates and invertebrates.

350 B.C
Theophrastus
Plants are classified into herbs, shrubs, and trees.
40 AD - 90 AD
Dioscorides
Plants are classified according to their medicinal properties and agricultural benefits.

1200 – 1280
Albertus Magnus
Flowering plants are classified into Dicotyledonae and Monocotyledonous

 1735
Carl Linnaeus
Binomial nomenclature was introduced.

About 6000 species were given scientific names.

The taxonomic hierarchy was introduced.

Organisms were classified into two kingdoms as Plantae and Animalia.
1869
Ernst Haeckel
Introduction of "Phylum" to the taxonomic hierarchy.

Introducing a new living kingdom called "Protista"

1969
R.H. Whittaker
Five kingdoms were introduced into the taxonomic system.
(Monera, Protista, Fungi, Animalia, Plantae)
1982
Carl Woese
Molecular biological features were used to classify organisms.

Three domain classification was introduced
Table 01: History of classification of organism
Three domain classification of life by Carl Woese
Living organisms are divided into three domains based on molecular biological factors. Considering the common ancestral relationships of living things, the evolution of life can be represented as a branched tree. This is called the "Phylogenetic tree".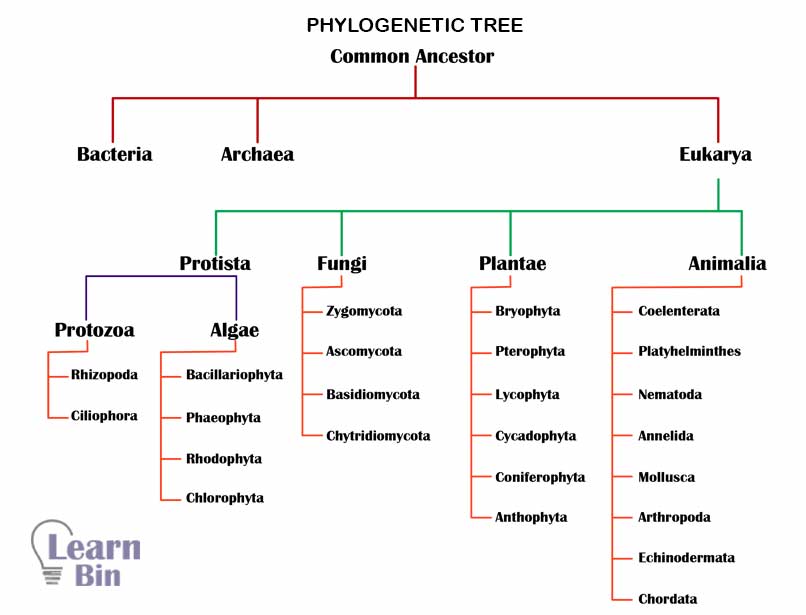 The tree domain classification was introduced by Carl Woese in 1990. He used molecular biological features to classify organisms. The molecular biological factors that he used are the Base sequence of important genes, the amino acid sequence of proteins, the base sequence of rRNA, and the molecular structure of the cell membrane.
Comparison of three domains of life
Three domains of life introduced by Carl Woese are Bacteria, Archaea and Eukarya. Domains are classified further into seven levels. Those are kingdom, phylum, class, order, family, genus, and species. Each level is called a taxon. When coming from the top to bottom of the taxonomic hierarchy, the number of species decreases, diversity between the species decreases, and the evolutionary relationship between species decreases.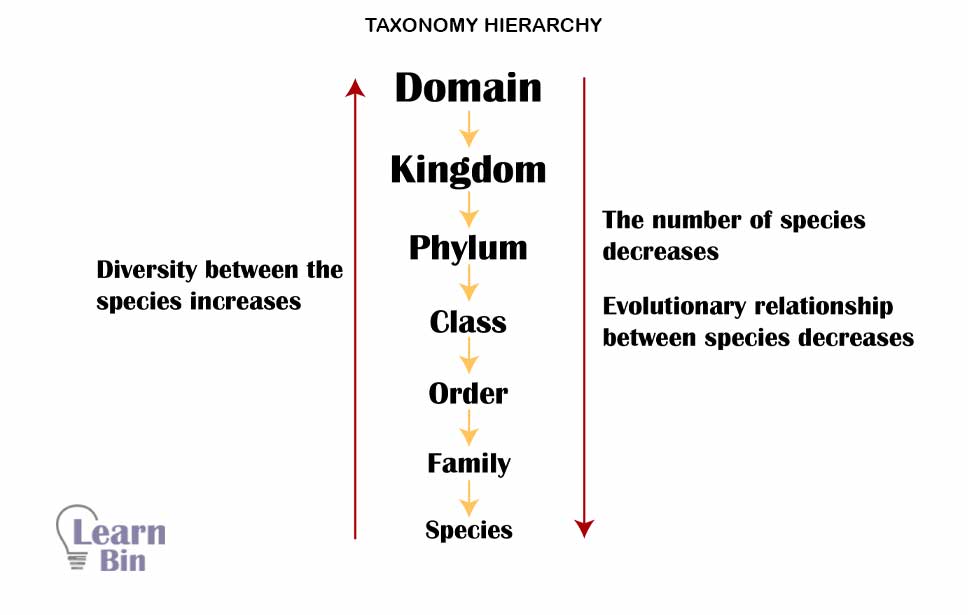 Classification of living organisms
Archaea
Eukarya

Protista

Protozoa
Algae

Bacillariophyta
Phaeophyta
Rhodophyta
Chlorophyta

Fungi

Zygomycota
Ascomycota
Basidiomycota
Chytridiomycota

Plantae

Bryophyta
Pterophyta
Lycophyta
Cycadophyta
Coniferophyta
Anthophyta

Animalia

Coelenterata
Platyhelminthes
Nematoda
Annelida
Mollusca
Arthropoda
Echinodermata
Chordata